Then began I to wax in wisdom,
One word led on to another word,
One work led on to another work.
(Hávamál: 141)
---
My first novel was published in 1981. In 1982 I was consecrated as a pagan priestess. One way or another, I've been following both paths ever since. On this site you'll find information on what I've done and what I'm doing, with links and resources to find out more.
"Writing" will take you to information about both my non-fiction work and my novels and stories.
"Community" has news about projects  in the pagan and heathen communities.
The calendar shows when I'll be attending conventions and festivals, and doing radio interviews and book signings.
If you have a comment or a query, or there's something I haven't covered that you'd like to know, please get in touch. I'll try to update regularly and answer your questions.
---
News!
New Editions are here!
Essential Asatru —Diana's best-selling introduction to Heathen religion and practice has been released in an updated edition from Citadel Press. This book is now available as an e-book as well.
Taking up the Runes has  been re-issued as a "Weiser Classic", with a new foreword by the author.
DIANA READS THE RUNES! 
Want to know what's going on in your life and what to do about it? Diana is now doing on-line rune readings via phone, FaceTime, or Skype.
12-rune reading, $1 per minute (average ½ hour)   For an appointment, write to me at dlp-contact@diana-paxson.com
                                                                              "Runes thou wilt find, and rightly read
                                                                                of wondrous weight, of mighty magic…"
                                                                                                                                        (Havamál 142)
NEW FROM WEISER BOOKS –ODIN, ECSTASY, RUNES, & NORSE MAGIC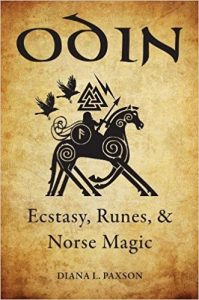 In a sense this is the book I have been working on since I first encountered Odin in 1987, a chance to share what I have learned from the lore, from others who have met him, and from my own experience.  This is a book for those who heard about Odin on Vikings or American Gods, and want to know the lore behind the vision, those who already know Odin and want to learn how others see him, and those who are, perhaps unexpectedly, encountering him today.
I am delighted to have received this excellent review in Publishers' Weekly.  
Odin: Ecstasy, Runes, & Norse Magic
Diana L. Paxson. Red Wheel/Weiser, $22.95 trade paper (320p) ISBN 978-1-57863-610-5
This short work from pagan priestess Paxson (Essential Asatru), a prolific writer specializing in Germanic mythology and religion, is a mix of semi-scholarly exposition on lore and history; expressions of personal visions and experiences inspired by paganism; recommendations for pagan spiritual practices; and short stories, poems, and songs on the theme of Odin. Paxson explores Odin's various names, associated symbols, and appearances in Norse lore as well as modern fiction, such as Gandalf in J.R.R. Tolkien's Lord of the Rings trilogy. The specific practice sessions that follow each chapter will be appreciated by those involved in pagan religion; among other things, Paxson suggests building an altar, meditating while reciting poems about Odin, and creating rune charms. The accounts of Norse lore are lively and accessible introductions to the lay reader, and Paxson's own beliefs, as well as those of her interviewees, shine through in her clear and lucid prose. Paxson's book is charming and accessible, even to outsiders previously unfamiliar with the concepts. (Sept.)
 For Diana's travel schedule see  "Calendar"
---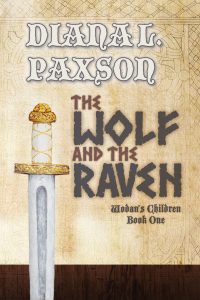 The Wolf and the Raven hunt again!
 The Wolf and the Raven, first novel in the Wodan's Children trilogy, is available once more!  This is the book that explains how the  lives of Brunahild and Gudrun, Sigfrid and Gundohar, first become entwined. We meet them first as children, and learn what  experiences make them the people who will do the deeds that became one of the greatest European legends.Here we learn how Sigfrid  reforged his father's sword, and the true nature of the dragon he is destined to kill. Meanwhile, Brunahild is being trained as a valkyrie  in the hills above the Rhine and learning the secrets of Germanic magic. Wodan (Odin) also appears, subtly nudging his children in the  direction Wyrd needs them to go.
Out of print for over a decade, it's the first book in my backlist to be available for a new generation of fans. Buy your twentieth  anniversary edition of The Wolf and the Raven today!
 Also available as a PDF and an eBook for all your devices, direct from my online store.
For more information in purchasing this and other books, check back soon for information on how to order all my books through my online store!
---